RSTgroup ("Rosstroytech" TM) turkey solution of 3D panels construction system is designed for interior and exterior walls creation, dispensing with the need for concrete framework.
RSTgroup ("Rosstroytech" TM) panels consist of 3D welded wire space frame fitted with an expanded polystyrene insulation core. The strength and rigidity of the panels result from the diagonal truss wires welded to the wire mesh layers on each side of the panel.
What are the advantages of Rosstroytech 3D panel construction?
Easy to install. 3D Panels are manufactured for ease of use. Each panel can be installed in a matter of minutes by an unskilled laborer.
A time saver. Buildings made up of 3D panels can go up in days, not weeks. In fact, it takes less than a day for the 3D panel shell of a 220 sq.m. house to be erected.

Design flexibility. 3D panels can be easily molded to fit complicated architectural designs. Window & doorframes are easily created by cutting the required openings in the panel itself.
A universal building product. The panels can be used as walls, ceilings, roofs and as filler panels for metal or concrete structures. It can be virtually used for any construction project, from single-story to high-rise buildings, whether for residential or commercial purposes.
Simple installation of utility wiring. Electrical wires, water pipes & other cables present no problem. They are simply inserted between the polystyrene core & the cover mesh.
Built-in insulation (thermal & sound). Each 3D panel comes with built-in thermal insulation, thanks to its expanded polystyrene core. The sun's heat cannot penetrate walls made of 3D panels. Also, cooler temperatures within the 3D panel structure can be maintained, thereby saving on electricity costs. The panels also have excellent sound insulation capabilities.
Calamity resistant. Rosstroytech panel is a light-weight reinforced concrete system capable of withstanding strong seismic and wind pressure. Houses built with 3D panels have survived typhoons and hurricanes without an inch of damage. The 3D panels are also fire retardant. The polystyrene core does not kindle fire, it merely melts under the flames.
Cost-effective. The 3D panel system can save builders as much as 25% of their total project costs. Reductions in necessary labor, machinery, and extra materials, which would have been needed by using traditional construction methods, all contribute to the total savings.
A space saver. Finished 3D panel walls (that is, after being sprayed with concrete) typically results in a thickness of only 10 cm. By comparison, hollow blocks are already 6 inches thick on their own. After adding finishing on both sides, those blocks typically carry an 20 cm thickness.
Maximum structural integrity. The monolithic structure of the 3D panels allows for an impressive strength-to-weight relationship.
Environment-friendly. The EPS (Expanded Polystyrene) Core is CFC-free. The wires are made of recycled steel. Also significant is the amount of timber the system saves compared to the use of traditional wood frames..
Building projects
What's the panel inside?
RSTgroup ("Rosstroytech" TM) panels consist of 3D welded wire space frame fitted with an expanded polystyrene (EPS) insulation core. EPS (Sintered Expanded Polystyrene) is a material produced from styrene, a monomer derived from petroleum, but also found in foods such as wheat, strawberries, meat and coffee. Polystyrene is obtained through the polymerization of styrene. Before being expanded the polystyrene is in glassy granule form (beads), with size ranging from 0.3 to 2.8 mm.
Once the panels are joined together after they are plumb and straight, in the case of double panels sprayed in concrete, and the electrical and plumbing systems installed, the plaster can be applied directly onto the panel.
Panel types
Panel installation



Basic set of equipment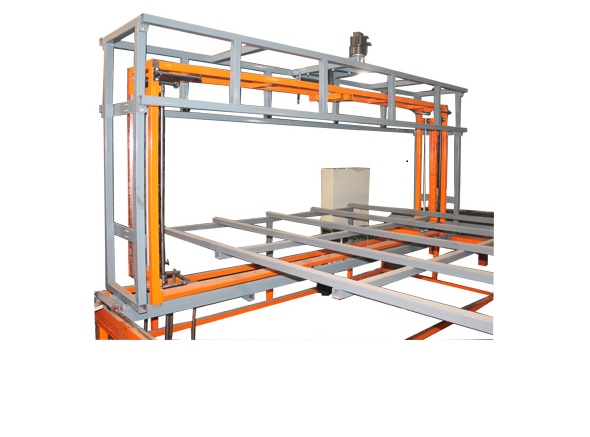 Eidograph: ESP cutting & shaping
The EPS (Expanded Polystyrene) blocks are cut and shaped by a hot-wire, high-precision cutter is programmed by the operator according to specific requirements.
WPK series welding machine
"Rosstroytech" offers a special welding machine in a jig. The bars are loaded in jig frame and fixed, then automatically fed into the welding unit. Programmable automatic welding provides a high quality and proper dimensions of the mesh due to the fixation of rods in the frame.
| | |
| --- | --- |
| Welding unit | WPK-1000 |
| Wire diameter, mm | 3-5 |
| Mesh dimension (increments 50 mm), mm | from 50x50 to 200х200 |
| Max. mesh width, mm | 1000 |
| Max. welding spots (heads), pcs | 20 |
| Cross wire (bars) feeder | manual |
| Line wire (bars) feeder | manual |
| Cooling water consumption, l/h | 1500 |
| Compressed air consumption, l/min | 1200 |
| Wire profile, sq.mm, copper | from 50 |
| Welding mode | cascade |
| Max. transformer power, kW | 75х3 |
| Welding speed (cross bars per min.) | 40-60 |
Straightening and cutting machine
Straightening and cutting machine automatically unwinds wire from the coil and cut the bars to size. "Rosstroytech" straightening and cutting machine with roller-type rotor straightening technology and multiple cross-flexible bending the wire in spinnerets. Wire feeding unit is driven by rollers. The "intelligent" length check provides automatic adjustments when changing the length of the cut bars. Set up once, the machine is stable enough, and cuts the rods with good precision. The cut device is a pneumatic driven.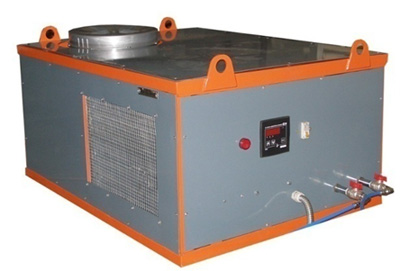 Cooling system
Water cooling system flow or close-loop type is used for efficient operation of welding machines. "Rosstroytech" manufactures compact stand-alone cooling system. Water based on ethylene glycol is used as a coolant.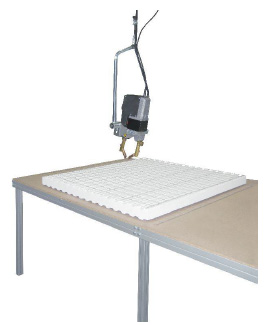 Bench for special panels welding
Welding tongs (or arc welding machine) with vertical and horizontal adjustment. Depending on production output automatic welding bench is available too.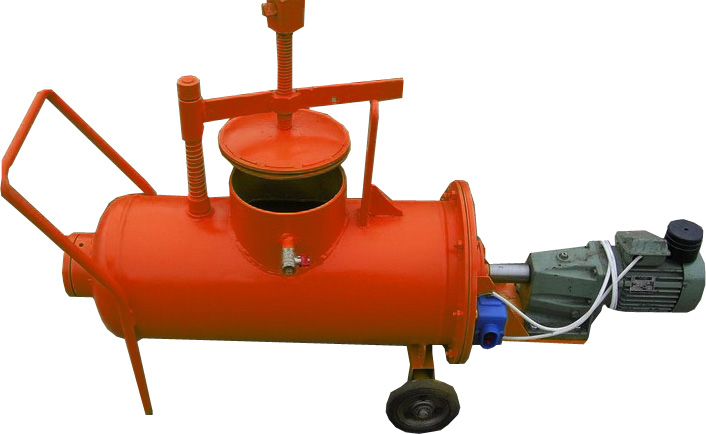 Plaster sprayer
Mortar sprayer machine with mixing & spraying function. The plaster can be applied directly onto the panel. The result is a solid monolithic block that is able to withstand cracks due to either thermal or mechanical strains.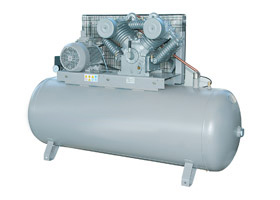 Air compressor
Continuous air delivery to the welding unit will eliminate cfm drop as it happens with regular air compressors when the tank drains from air.