RSTgroup ("Rosstroytech TM") business solution for fence 3D panels production is a next step of your profitable private start up.
Why choose us? Firstly, we have succeeded in the production of welding machines. Secondly, all the serial equipment is manufactured by RSTgroup ("Rosstroytech TM") and industry approved. Finally, we provide an access to ready business as simple as a piece of cake!
Fence 3D panels are suitable for enclosing of residential, municipal institutions such as kindergartens, schools and sports fields, factories and industrial sites.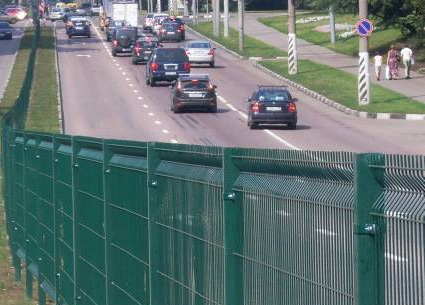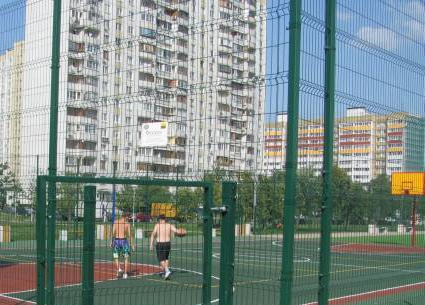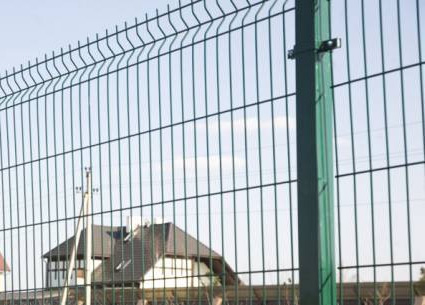 "Fence 3D" turnkey consists of a high performance automatic or semi-automatic welding machines and integrated (or stand alone) hydraulic ribs shaper. Welded mesh is placed in hydraulic V-shape ribs to increase strength of welded mesh sections. The number of ribs depends on the fence height. Finished fence section is ready for powder polymeric coating. It is based on electrostatic adhesion of powder paint particles to surface, and further polymerisation of the powder coating in thecuring oven. Finally, coated panels are installed between two posts of a rectangular profile using special clips (intermediate, corner and initial/final clips).
Semi-automatic welding machine WP series and Bending machine
RSTgroup ("Rosstroytech TM") has developed a unique design of the multi spot welding mesh machines, which is equal to the technical characteristics of leading manufacturers such as Clifford, Schnell, AWM machinery. Electronic control includes Delta Electronics®, Finder® components. Pneumatics and motor reductors are made by Camozzi® and Tramec® respectively. Polymeric stage includes the following equipment: curing oven, sputtering chamber, transport system, sputtering equipment.
Mesh panels welding process
Operator sets up the desired technical parameters via control panel, and makes general adjustments of the machine before welding. Semi-automatic machine requires line and cross pre-cutted wire. Using straightening & cutting unit the operator prepare appropriate size bars in advance. The line bars are loaded manually through line feed unit. The cross bars are loaded to bunker. Feeder throws off the cross bars one-by-one from the bunker into welding zone automatically. Welding in place of intersections is performed simultaneously.
The polymeric powder line includes: curing oven, sputtering chamber, transport system, sputtering equipment.
Curing oven, dimensions 6200x2900x1600 mm, capacity 110 kW
Sputtering chamber, dimensions 3500x2700x900 mm, capacity 12 kW
Transport system, 10 guides.
Sputtering equipment.
Fence mounting posts are made of profile pipe using a band saw. Band saw is designed for high-performance cutting metal, allows to optimize metal expenses and electricity consumed.
Basic set of equipment:
Required add-ons:
air compressor, capacity over 1000 l/min;
feeding table for bars, dimensions 2,5x3 m;
finished product table, dimensions 2,5x3 m;
electric power supply 100 kW (average consumption about 40 kW/h);
workshop, dimensions 25x10 m (~ 250 sq. m.);
lifting device for wire loading (coils, bars, finished mesh), capacity 1,5 tons;
band saw;
operator of the welding machine (min 2 person).